Things That I have Learned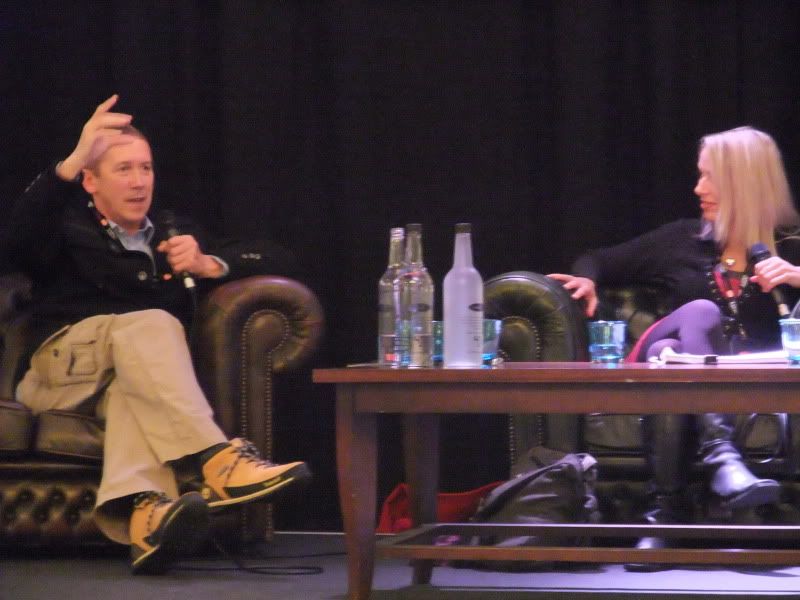 Paul Hardcastle is still around and is recording under various disguises, one of which is The Jazz Masters, a smooth jazz combo that does particularly well in America. Their first album was released for Motown, flopped, and the second album was released elsewhere. It became an RnB number one album. Motown phoned him up asking him why he hadn't given them that album. Well, he did offer…
If you get a room filled with internet pioneers, eight out of ten of them will be wearing intentionally geeky glasses. I don't know if that is a good thing or a bad thing.
Joe Cohen is the founder of Seatwave, a ticket exchange site that looks better than Scarlett Mist but without the desire to prevent ticket touts (hey, the community should stop them) or selling tickets at face value only. He is a great fan of Deepak Chopra, the lifestyle/business guru brilliantly lambasted by Francis Wheen in his books and columns. In fact I blame Wheen for making me suspicious of anybody who follows Chopra. Sorry Joe…
Alex Ljung (founder of soundcloud.com) doesn't buy cd's, but he does enjoy collecting vinyl.
Want to get on Hype Machine? Don't bother asking until you've set up your blog and regularly post stuff for at least three months. Keep posting those tracks and build your fan base. Do not post full albums. Then ask. Hype Machine link to over a thousand blogs and they can afford to be picky about who they monitor.
Funny, Hype Machine clearly links to tracks that shouldn't be available. They should be the baddies that Sony are going out of their way to close down. And yet they don't. Is that because Hype Machine are now closely linked to I-tunes and between 10-20,000 tracks are purchased via their site every week? It's almost as if there is something behind the theory that if you work well with your target audience and don't worry too much about illegal downloading you can build enough trust to make people buy your stuff anyway.
Another example. The most popular Moby track sold on I-tunes is also the one you could download for free on his website.
During the last Nine Inch Nails tour Trent Reznor sent out a tweet offering a thousand tickets for 800 dollars each where fans could have dinner with him and the band. All the money raised from these tickets would go to charity. They were sold within an hour. Trent made more money on the deluxe version of his last album than he did on his last official release via a major label. He also gave away the album for free. It's almost as if there is something behind the theory this if you work well with…
Sean Adams is gay for Trent Reznor.
Andrew Collins can do a pretty decent Bruce Forsyth impression just by talking normally.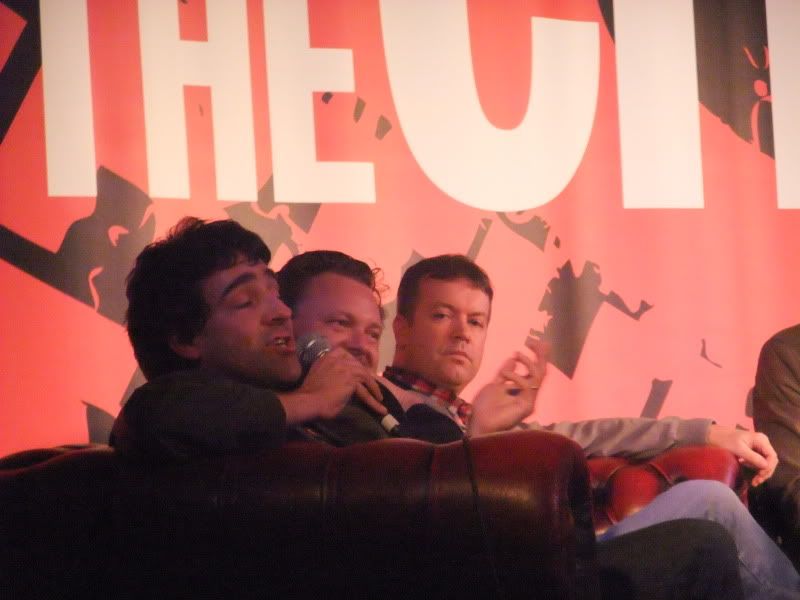 The last time John Niven came to In The City (back in the late nineties) he spent three days in a hotel room doing coke and refusing to go to any of the events. He did that in the company of a now important employee at Sony. I am not saying which important employee of Sony.
Pete Frame's Rock Family Trees are back! The Family of Rock is a new organisation dedicated to expanding on Frame's original rock family trees. The driving force behind this are the producers The Boilerhouse Boys. Expect more soon.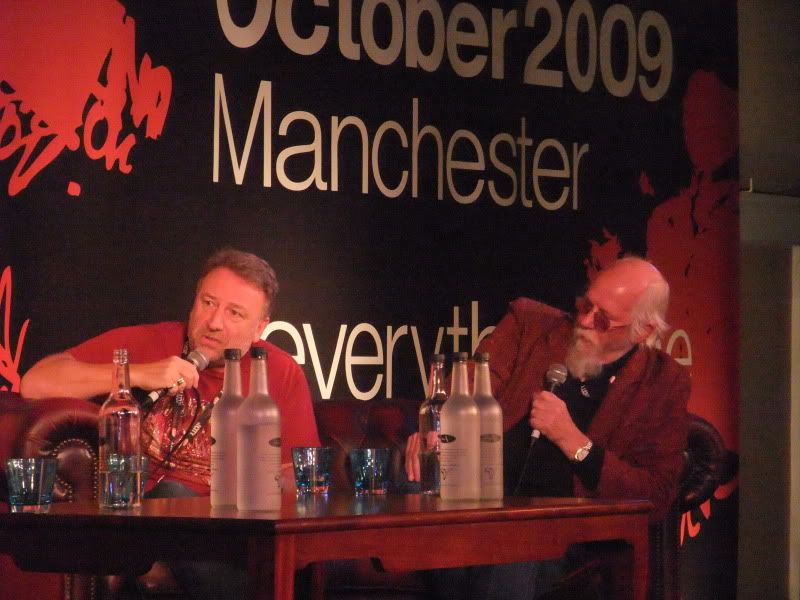 Here is a picture of Pete Frame sitting next to Peter Hook. Do you think they were made to sit next to each other or did they work out the pun themselves?
Peter Hook still loves Bernard Sumner. One of the proudest moments Hook ever had was when New Order snuck into a Spandue Ballet gig in Paris. Hook was watching from the side of the stage thinking "This is shit." He then noticed water hitting Tony Hadley. He followed where the water was coming from and spotted Barney, cock in hand, pissing on the band from the rafters. He will never stop loving Bernard Sumner.
There will be a sequel to Peter Hook's Hacienda book. It will concentrate on Joy Division. The idea is to make a trilogy of books, with the final one concentrating on New Order and beyond.
DJ Edu has one of the best shows on 1Xtra and you should really take time out to listen to it.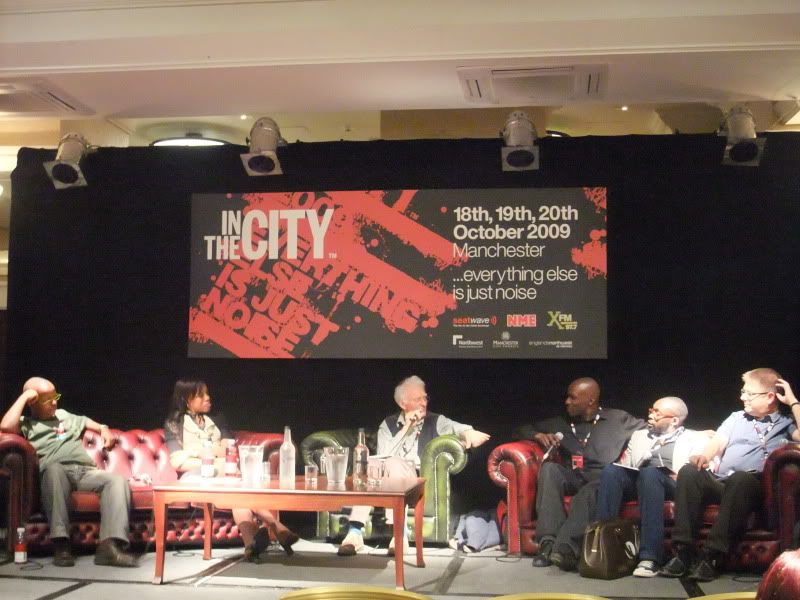 If you get a very earnest moderator a talk about the African music scene can be very boring. Thankfully the right panellists can prevent that from happening.
The problem with the way African music is perceived in the UK can be perfectly shown by using the example of Guy Morley and African Soul Rebels. Fair play to Guy for attempting to create a show where the cream of Africa play in the UK. But why play The Bridgewater Hall, home of the Halle Orchestra? Why not The Warehouse Project or The Apollo Theatre? You know, places where you can dance or mosh. Don't you end up putting people off who otherwise may have enjoyed it and just get the type of people who think they are clever and superior to others? You know the type, buy vintage clothing and only shop in ethical stores. Twats. Get African rock bands to play rock gigs and leave the snobs to muse on their organic ham and shitty art exhibitions.
Under the right set of circumstances, you can't help but like Johnny Jay (local music entrepreneur) and John Robb.
The Most Aptly Named Band Award Goes To
The Ray Summers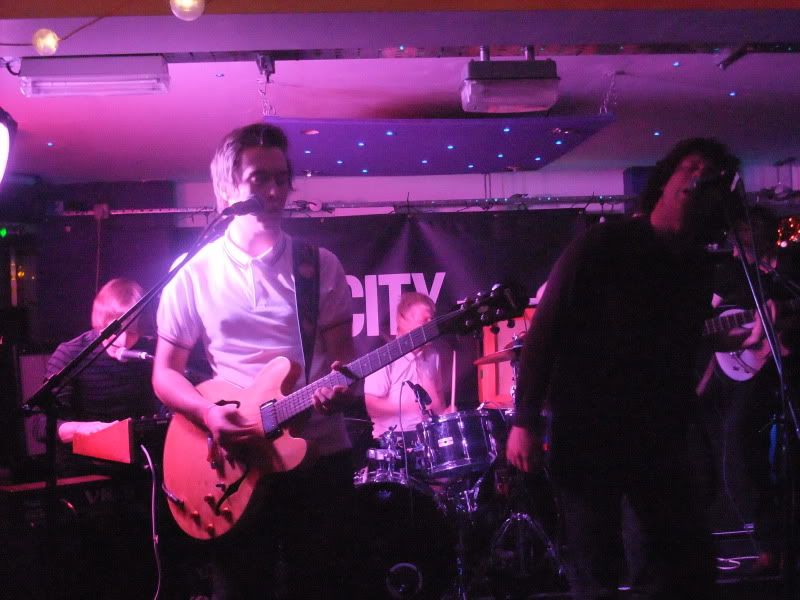 Brilliant Scottish group who make west-coast psychedelic tinged rock stompers that remind you of good times and the better bits of The Super Furry Animals and Idlewild all rolled into one. Singer looks a bit of a twat, but what can you do?
The "Seriously, Are Front Magazine Trying To Groom Teenage Girls?" Award Goes To
Front Magazine and The Futures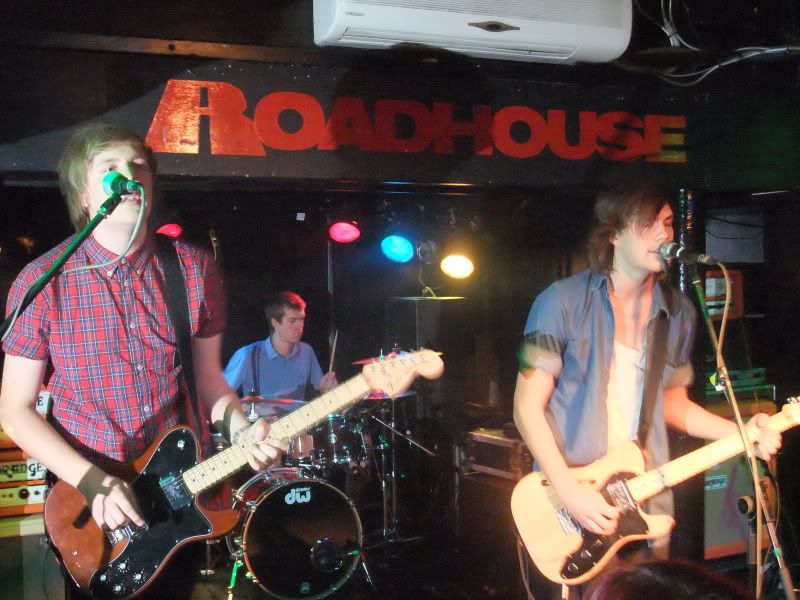 Front Magazine is a porn mag for cowards. It specialises in trying to get teenage girls to appear in their mag with less clothes on than they would wear on a average night out. For this they give the girls a relatively tiny amount of money and the hope that they will get better paid jobs later or fuck a footballer or a DJ or something. To aid them in their hunt for girls of a certain age/mentality Front sponsor nights where perfectly decent pop-metal bands play perfectly acceptable pop-metal songs to a mainly female, teenage audience. The music is fine, but isn't the concept dangerously close to paedophilia?
The "Ah, So Not All UK Hip Hop Is Good" Award Goes To
The Real Dolls
Hm. Ah well. Maybe they'll go pure pop and make a record as good as Junior Senior. Their DJ was good, mind…
The "I Bet They Sound Much Better On Record Than They Do Live" Award Goes To
Taxi Taxi!
Two twin sisters, harmonies, sparse instrumentation, songs. Pity they were a bit out of time with the harmonies and the whole songs bit. But I bet on a good day and in a studio they sound fantastic.
The Late Eighties Weren't A Completely Terrible Time For Indie Award Goes To
The Dutch Uncles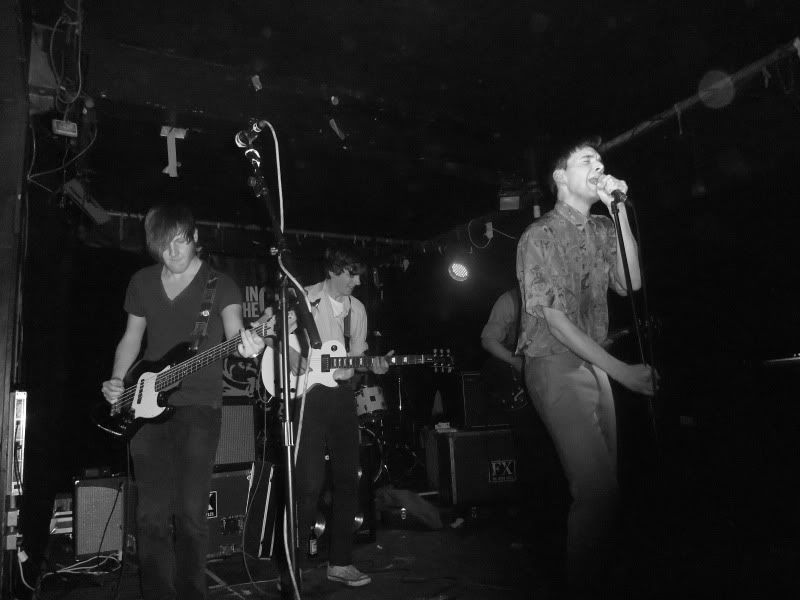 They may list their influences as being Steve Reich, Talking Heads and King Crimson in the little black book you get given as a delegate, but they equally fit in with the music of The Fall and The Wedding Present. Good. The less Manchester bands that sound like Oasis or Elbow or Doves the better. Don't get me wrong, I love Elbow and I love Doves- I just don't want them to be the new template that all Manchester bands clone themselves upon. Give me Egyptian Hip Hop and this lot anytime. To some they may be marmite bands, but better a thousand marmite bands than one more Pizza Express band that makes you happy in their familiarity.
The So Good I Stayed For The Whole Damn Set Award Goes To
Asakusa Jintu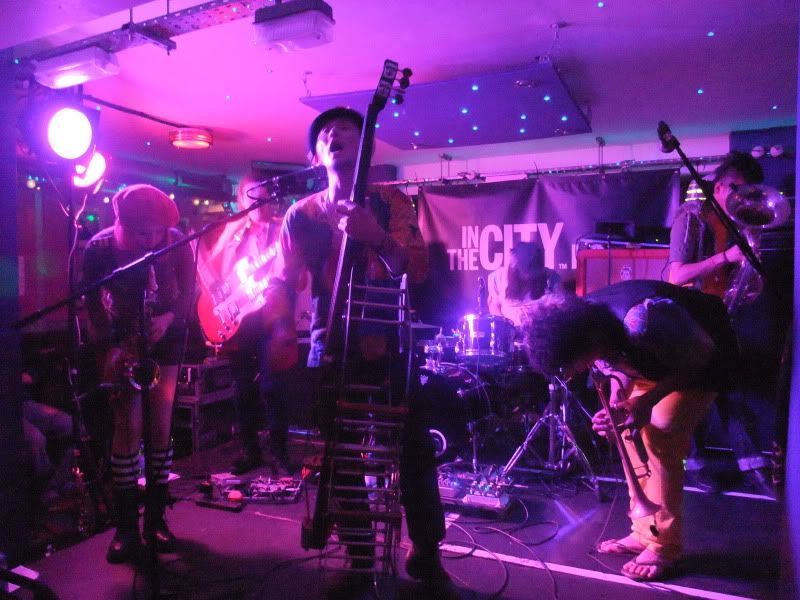 Just phenomenal - although fans of punkskapsychobillyhippieeastend Japanese bands may tell me that they aren't the best in their field. If so tell me more. Their may be a video for this perfomance appearing on line very soon…
The I Can't Be Bothered With Award Goes To
The Heartbreaks
See The Dutch Uncles rant and concentrate on Oasis. And think Northern Uproar.
The Last Photo My Camera Took Before It Died Award Goes To
Tigers That Talked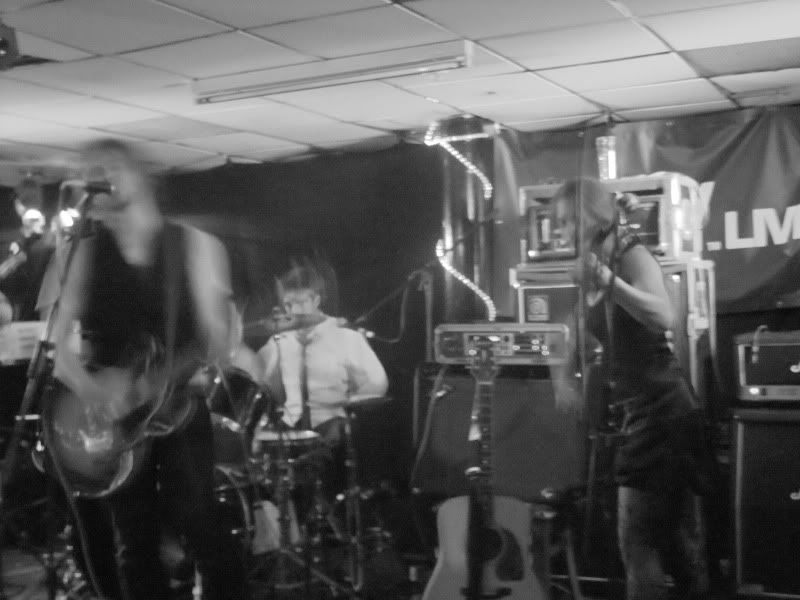 So I don't have a better photo. Sorry. Now, given the rant I had above about Elbow clones, you may not expect me to fall in love with a band that are described in the lbb as "hints of The Cure, Elbow and Ryan Adams influenced as much by Ennio Morricone as they are the ramshackle folk of Arcade Fire." You would be right. But they are worth more of your time and further investigation.
The "Sadly I Didn't Get To See" Award Goes To
The Drums
The Nacional
Beatbox Fozzy
Jessica 6
Kong
Rogues
Mount Kimbie
White Sunday
Killaflaw
Your Twenties
Lost Knives
And loads of others. But I've heard demos and other people went to see them and so should you! Go out, support bands and enjoy them while you can. The scene is more diverse and interesting than ever, go and find it.