Things That I Have Learned
Oil City is the new documentary by Julien Temple. It concentrates on pub rock, Canvey Island and the mighty Dr Feelgood. After doing the festival circuit it will go on general release at the start of 2010.
10.30 is still too early for people in the music industry. The managers are all coked up, the journalists are too pissed and the musicians don't have their mums to wake them up.
DJ Semtex is originally from Cheetam Hill and went to Manchester Metropolitan University, back in the days when it was still Manchester Polytechnic.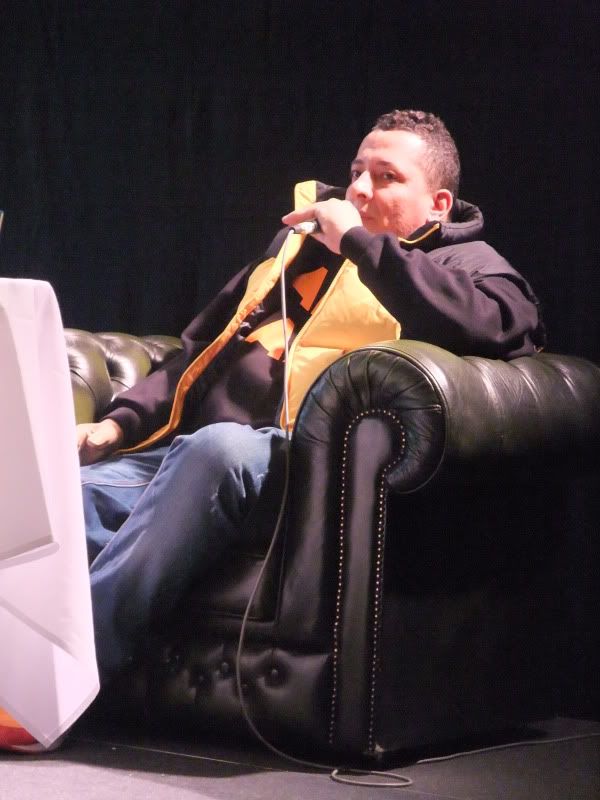 He can spout trade figures for England. He recommends any British artist builds up their own following and take their time to cultivate their sound/audience. Do not get him started about N-Dubz. He respects and likes them. I kid you not.
Master Shortie likes his rock music.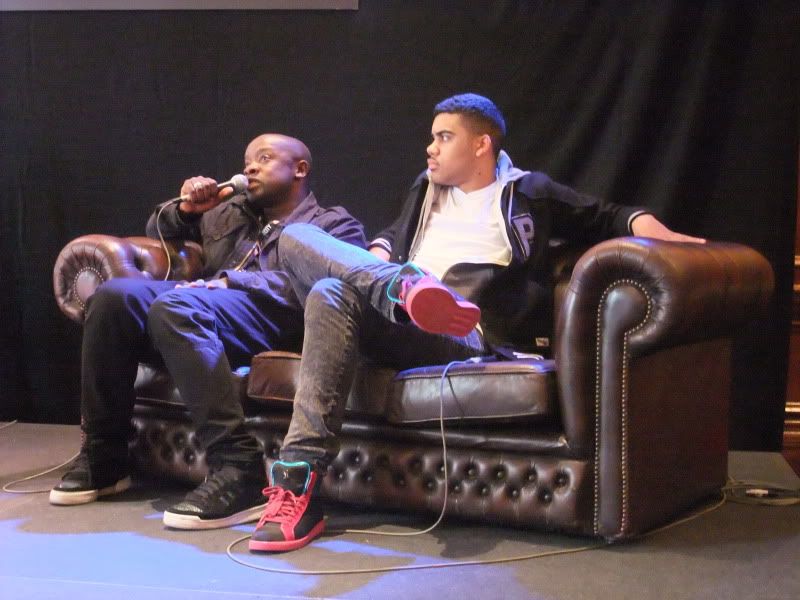 Lethal Bizzle may have given up the indie sound, but expect more rockier stuff from MS in the near future. His manager was in the UK hip hop band D-influence. I almost completely forgot about them.
Emma Greengrass, head of Oasis' label Big Brother still has a job. Which seems slightly pointless, when you think about it.
Speaking of Oasis, Gered Mankowitz is a well know and respected photographer who has taken photos of everyone from The Rolling Stones and Jimi Hendrix to Patrick Wolfe and Slade. Mojo thought it would be a good idea to get him to take a photo of Oasis similar to the ones he did for The Stones' "Between The Buttons" album. The session didn't get to a good start when Noel burst into the room scouling at everyone, jumped onto a couch and fell asleep. Liam came in after him, shouting at everyone, walked into the make-up room and started to roll up a joint. The rest of the group tagged along with him like a gang of kids. Gered had never felt so threatened during a session in his life. This may be due to him being a soft southern wuss. Their road manager, an ex-marine who happened to know Gered from the times he used to tour with Mick 'n' Keith, grabbed Noel by the back of his neck and pulled him into another room and told him in no uncertain terms to buck up. "BUT IT'S ONLY A FUCKIN' PHOTO SHOOT!" Noel replied, stating the obvious. "FUCKING WORK! HE'S A GOOD BLOKE!" was the reasoned answer. To be fair to Noel and Liam, once they realised how good Gerard made them look, they became very professional. Almost friendly…
Pat Nevin likes the label Bella Union. He was studying for a degree at Glasgow University when he left to join Chelsea. You'd never guess any of this from the his analysis on Five Sport.
Mike Smith may very well be the devil incarnate. He thinks he can draw and an exhibition of his sketches are currently available to view at a gallery in Manchester. He signed Ultrasound and Gay Dad. His hatred of file sharers may in part explain why he didn't attend any of the first day conferences. I wouldn't want to be in a locked room with him.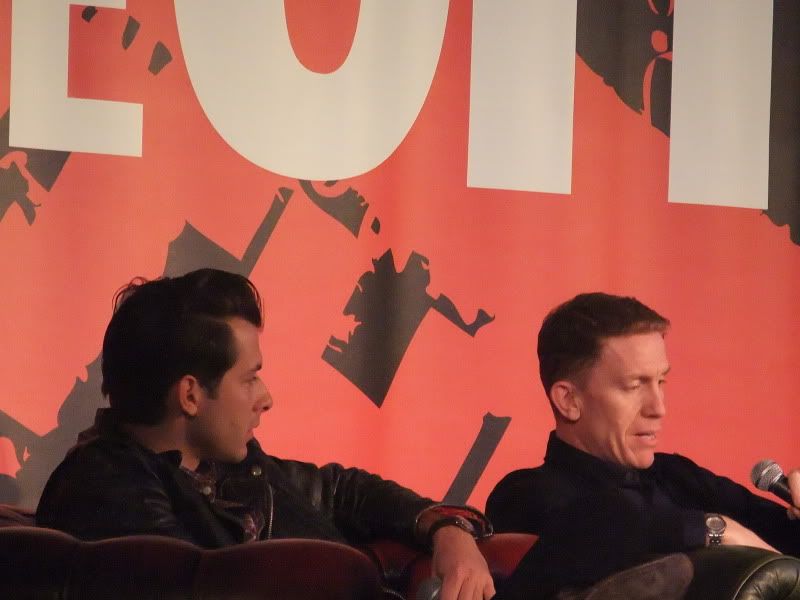 Mark Ronson self financed most of the recordings on the Version album. The original idea was to use them as part of his DJ sets and a mix album, but he was encouraged to make a full album by Mike Smith. He managed to get permission to release Stop Me from Morrissey by streaming the track to him via the web while his lawyer had a phone call with Mozzer's lawyer. Mozzer said yes. He is in the middle of trying to make his new album, which he's hoping will sound very different from his last album, possibly returning to his hip hop roots. He appear to enjoy looking like a lost member of The Libertines.
Trudie Bellinger was a bit concerned about whether or not she would make Pixie Lott's first major video when she found out that there were a total of 75 treatments put forward for the gig. As Tim Pope, director of those good Cure videos, pointed out - 75 treatments tends to be an indication that nobody has faith in the product.
Virals and youtube are the future of videos. Funny, I thought that was what was already happening.
The Sound Like An Oasis-lite Trite Award of The Day Goes To
The Law.
Just wrong. I stayed for two songs and wondered if the world had moved on from 1994.
The Wonder Whatever Happened To Menswe@r Award Goes To
The Cheek.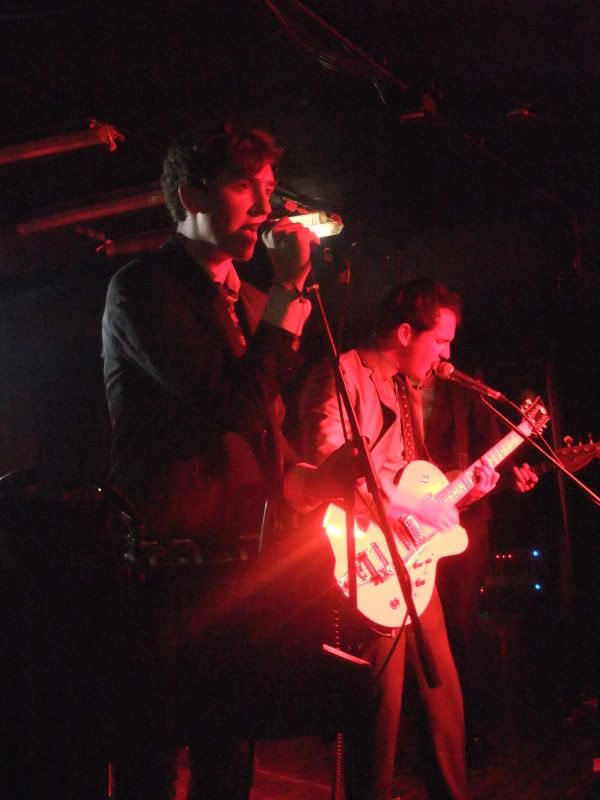 But it's a bit unfair. Their stylised indie-pop may reflect elements of mid-season Brit-pop but they have some decent tunes and a style to push them through. If they continue to mix it up with twinges of Roxy Music and Japan I'll continue to want to hear more.
The It's Bit Early To Have A Sound-like These New Puritans Award Goes To
The Neat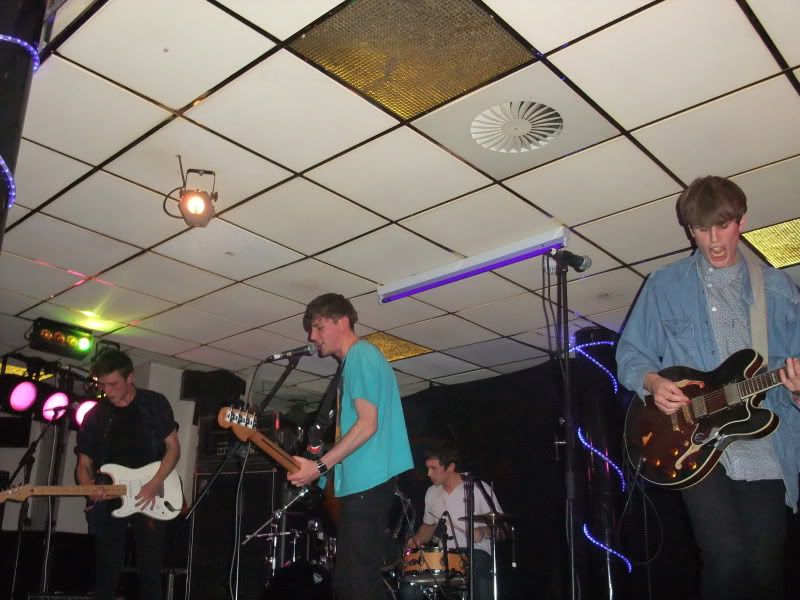 But damn, they are good. It's a mixture of edgy guitars, repetition and forceful drumming that makes it different enough to demand further investigation.
The Kings Of Leon Finally Have Some Decent Competition Award Goes To
The Vanguards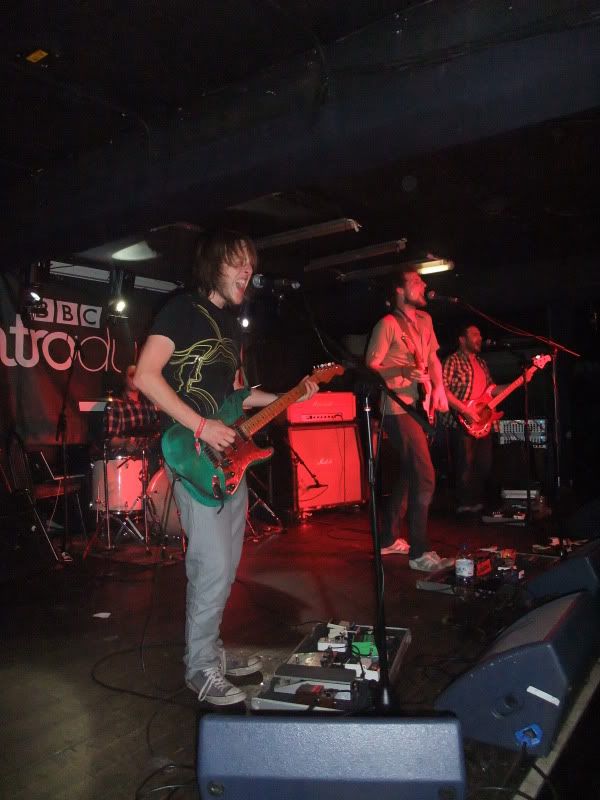 One of the few bands I decided to stay for longer than I planned. I even went out of my way to get myself a copy of their single. You may be reading an interview with these lad in the future. A pop friendly rock edge that does all the things KoL use to do well, before they became all stadium. But they still have their own feel that makes it worth listening to. I want more.
The Towers Of London But Less Stupid And More Enjoyable Award Goes To
Outcry Collective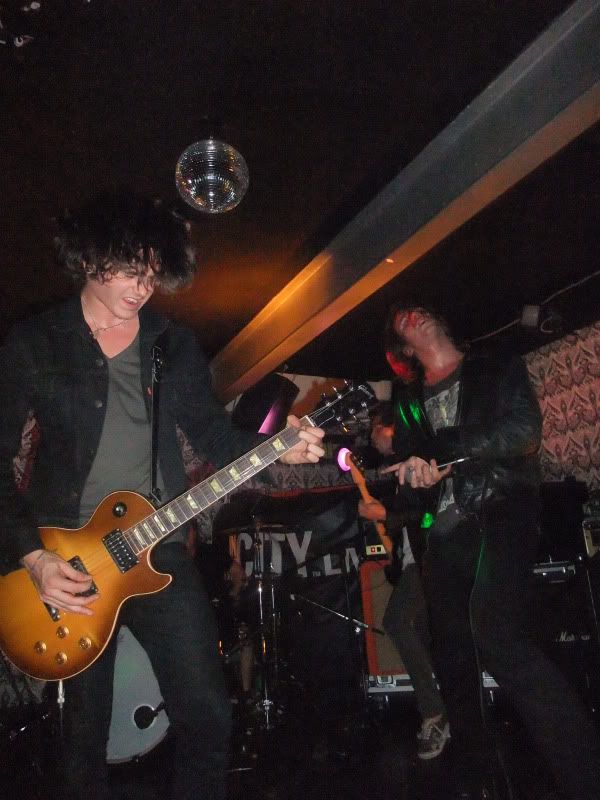 They are a walking cliché, a bunch of Surrey lads who make a punk noise somewhere between Chelsea and early Maiden. But bless 'em, you can't help but love 'em. At least they are aware of how they appear, and it's fun. Brain-dead, fun, British rock at it's rat sewer finest.
The Teenage Girls' Introduction To Rock Award Goes To
Telegraphs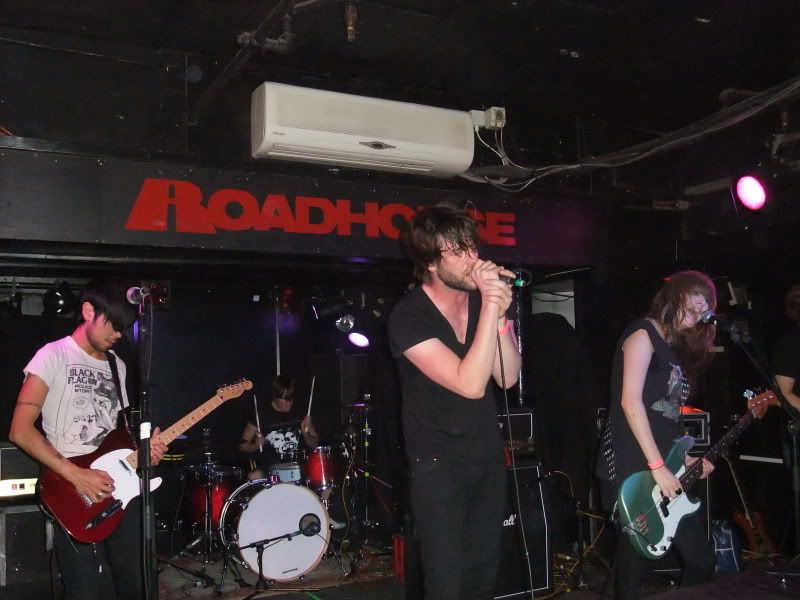 A light teen metal sound in the Kerrang! Style. Perfectly okay in it's own right and they could do well. Loads of teenage girls at the front for their gig. Which seems a bit worrying as the night was sponsored by Front Magazine. I can't help but think there was something wrong about that. You know, like the editor was grooming them.
The New Klaxons Award Goes To
Crystal Fighters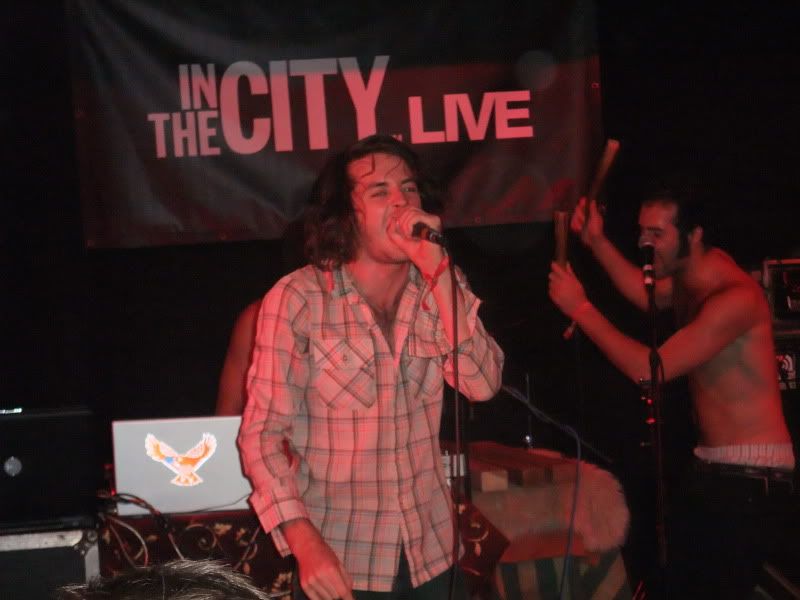 Rave rock played by half naked men who play drum machines, guitars and large planks of wood like they want to be Kasabian, but with a more arty sensibility. They describe themselves as "traditional Basque folk with churning beats to make raved up folktronica." I have no idea what that means. But then again I have no idea what my description of them means either. Expect them to be in every 2010 list.
The Simply Brilliant Real Folk Group And You Should Listen To Them Now Award Goes To
Hey Negrita
Fantastic real folk blues with the power and passion to light up a room.
The I Seem To Remember Thinking They Were Okay But Have No Memory of Their Music At All Award Goes To
Life In Film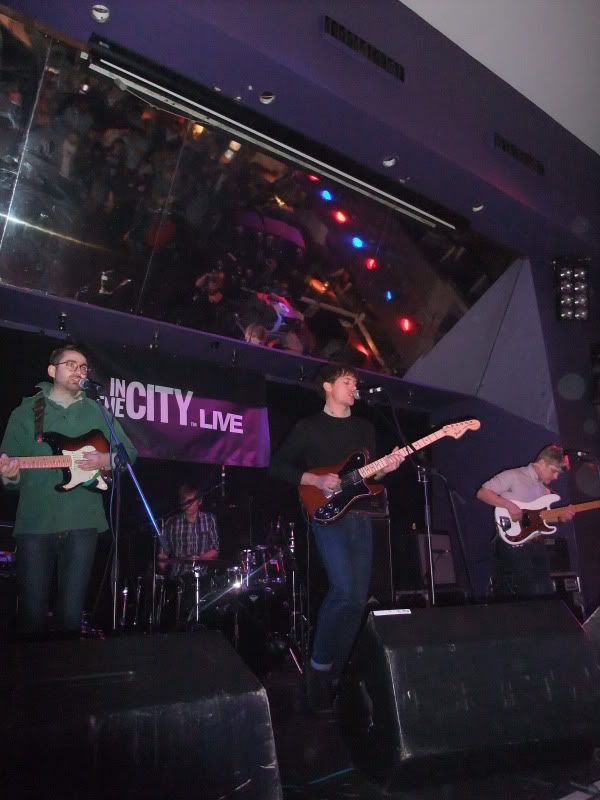 Erm, I remember liking the songs, there was something I enjoyed at the time. But now, but now… sorry. I'll need to see them again.
Caught By Accident and Rather Enjoyed Them Award Goes To
Gloria Cycles
One song, that's all. But is was a good song. A song for summer festivals and real lemonade. I wonder if I would prefer them to Life In Film if I heard them both again.
The Played To An Empty Room Award Goes To
Brute Chorus
Yep.
An empty room.
Fuck Camden chic.
Still, it was fun.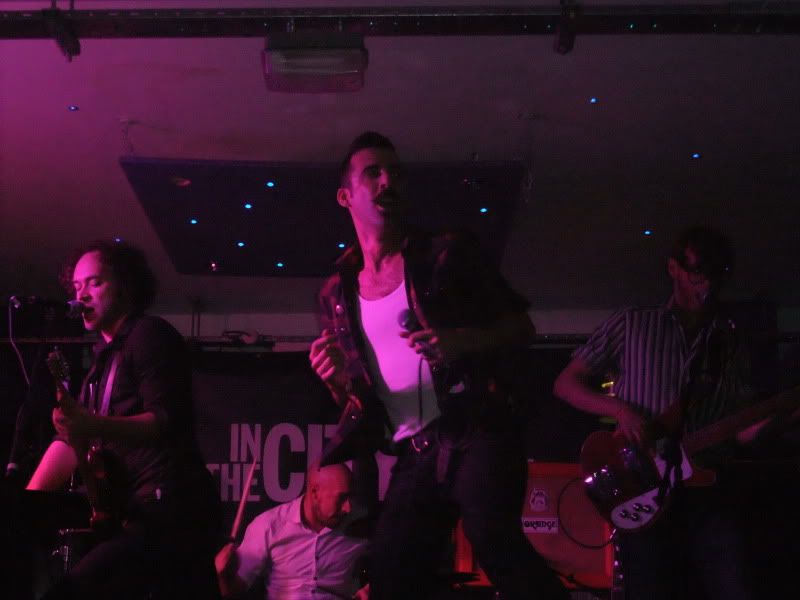 They ended up making a fine mess of sounds that Ten Benson would have been proud of. They are a good band and have the kind of force of self belief that the best bands have. In another universe Julien Temple would be making a documentary about them. I left when the crowd reached five. It was less special then.